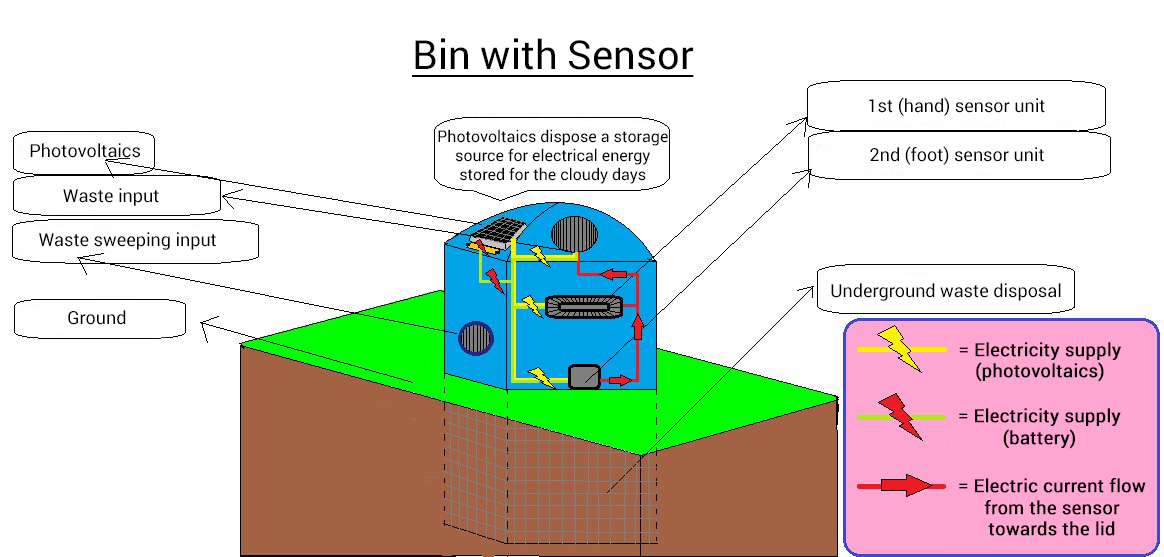 Greek students' eco-friendly recycling bin in European competition
The time is approaching for the greatest challenge for the young creators of the smart, eco-friendly recycling device that they dubbed "Smiley Bin", as they are preparing to present their invention at a European student entrepreneurship competition. The students, all from the junior high school (gymnasio) of Pydna Kolindros Alonion, in Pieria prefecture have already clinched a first prize in a "Best Student Virtual Business of 2016" competition in Greece.
Now the Smiley Bin creators will participate in a European-wide Junior Achievement (JA) competition, which will be held between July 25-28 in Lucerne, Switzerland .
"In Lucerne, all of the JA organisations in Europe will celebrate their best 200+ young entrepreneurs. A high-level panel of 10 judges will examine the contestants," notes the Junior Achievement website. "They'll evaluate their approach to communication, teamwork, problem-solving, objective-setting, planning and review, administration and financial systems, personnel management, product development, customer focus, marketing and sales, as well as financial results. How the students have developed their business skills is also assessed."
In Lucerne, five of the 15-year-old Pieria students will present, in English, their smart recycling bin to the other competitors and the panel of 10 judges. The students are Eleni Georgi, Maria Kokkala, Eleni Pantelidou, Gisela Batsi, and Iordanis Paschalidis.
"Although we will be competing with students from countries with a tradition of student entrepreneurship, we deeply believe in our concept and we are optimistic about receiving a distinction in Lucerne," said the project's marketing director, Eleni Georgi.
"Wherever we have presented our recycling bin, the reception has been positive. The largest municipalities in Greece, Athens and Thessaloniki, have expressed an interest. Several days ago, we participated in an entrepreneurship conference, and businessmen from Turkey, Germany and the US approached us to learn more," Georgi Said.
This time around, the team will present a more commercial, plastic Smiley Bin. "The original recycling bin was made of aluminum. It was attractive but quite heavy to transport abroad, and costly to manufacture on a wide scale," explains student Eleni Pantelidou, secretary of the student Smiley Bin company.
"We decided to incorporate the innovative aspects of the original in a light, plastic and more economical bin. This also strengthened our business plan. This recycling bin can easily be constructed internationally in whichever dimensions the client chooses, and it can be included in the existing waste disposal planning of cities," said team member Iordanis Paschalidis.
"We were under pressure, but we managed to implement our idea, with the assistance of experts, in only three weeks. Now we are finishing the aesthetic changes in the appearance of the bin," noted finance director Gisela Batsi.
The Smileybin.com website describes the features of the eco-friendly recycling bin thusly:
Automated opening with photovoltaic energy supply
Password entry keyboard
Integrated scales for calculating the weight of the recyclables (paper, aluminum, glass)
Data transfer to the owner company through a wifi system
Bonus return for the users (commercial centers, super markets) or reductions on the council taxes (Municipalities
In their efforts, the students were greatly assisted by literature teacher Tania Pantelidou and French teacher Iro Zioudrou.
"For us, class is not just rote teaching, it is a place where we teacher try to give students the wing to fly," said Pantelidou.
Commercial assistance was also provided by Panagiotis Tzellos, founder of Conference.com who offered technological advice via Skype from Athens.
More information on the project at the website http://www.smileybin.com/en/